One of the minor characters in The Rise of Skywalker that I noticed right away was Beaumont Kin, the Sith expert who commented on Palpatine's return with the dread words, "Dark science. Cloning. Secrets only the Sith knew."
This was, of course, Dominic Monaghan, who played the Hobbit Merry in The Lord of the Rings, and Charlie Pace in Lost, characters that I love. He's instantly recognizable; and that usually means I can't get into any new character an actor plays because I'm seeing their iconic roles instead.
But Beaumont Kin was a small enough role that I could get on board, and I wanted to know more about him. Most of what we know about him is from the comic Ghosts of Kashyyyk Parts 1-3. Kin takes part in a mission to free Kashyyyk from a First Order blockade (why does everyone pick on poor Kashyyyk? The Wookiee homeworld got stepped on during the Clone Wars, by the Empire, and by the First Order).
Anyway, we find out that Kin joined the Resistance after his parents told him he was "useless." Before that, he was an historian, and was particularly interested in the early Republic era after the vanquishing of the Sith. He visited many ancient Jedi and Sith sites in his quest to learn more about them. This is how he was able to help Rey translate the ancient Jedi texts she'd taken from Ach-To.
He was fluent in nine languages, and was on track to become the youngest professor at Lerct Historical Institute. When Hosnian Prime was destroyed by the First Order he abandoned education and became a captain in the Intelligence Division of the Resistance.
Kin, as seen in The Rise of Skywalker, took part in the battle of Exegol in the ground assault on the Star Destroyer Steadfast.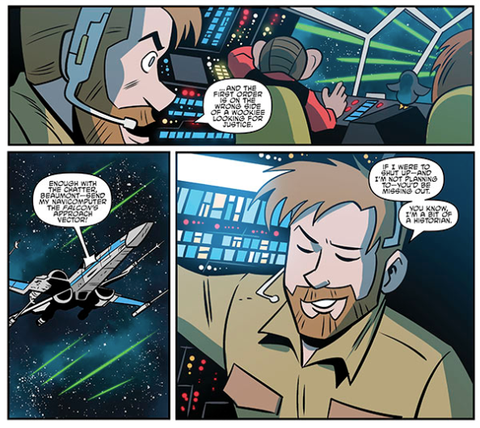 Monaghan got the role of Beaumont Kin in a rather unorthodox way: he won a bet against J.J. Abrams on the FIFA World Cup. So Abrams wrote the part of Kin with Monaghan in mind.
I just love that Monaghan was in three of my favorite stories: LOTR, Star Wars, and Lost (I don't care how it ended, I love it, lol).