Please be warned that there are spoilers ahead.
Episode three, "The Streets of Mos Espa," is a mixed bag of great moments and moments that left me scratching my head in bewilderment.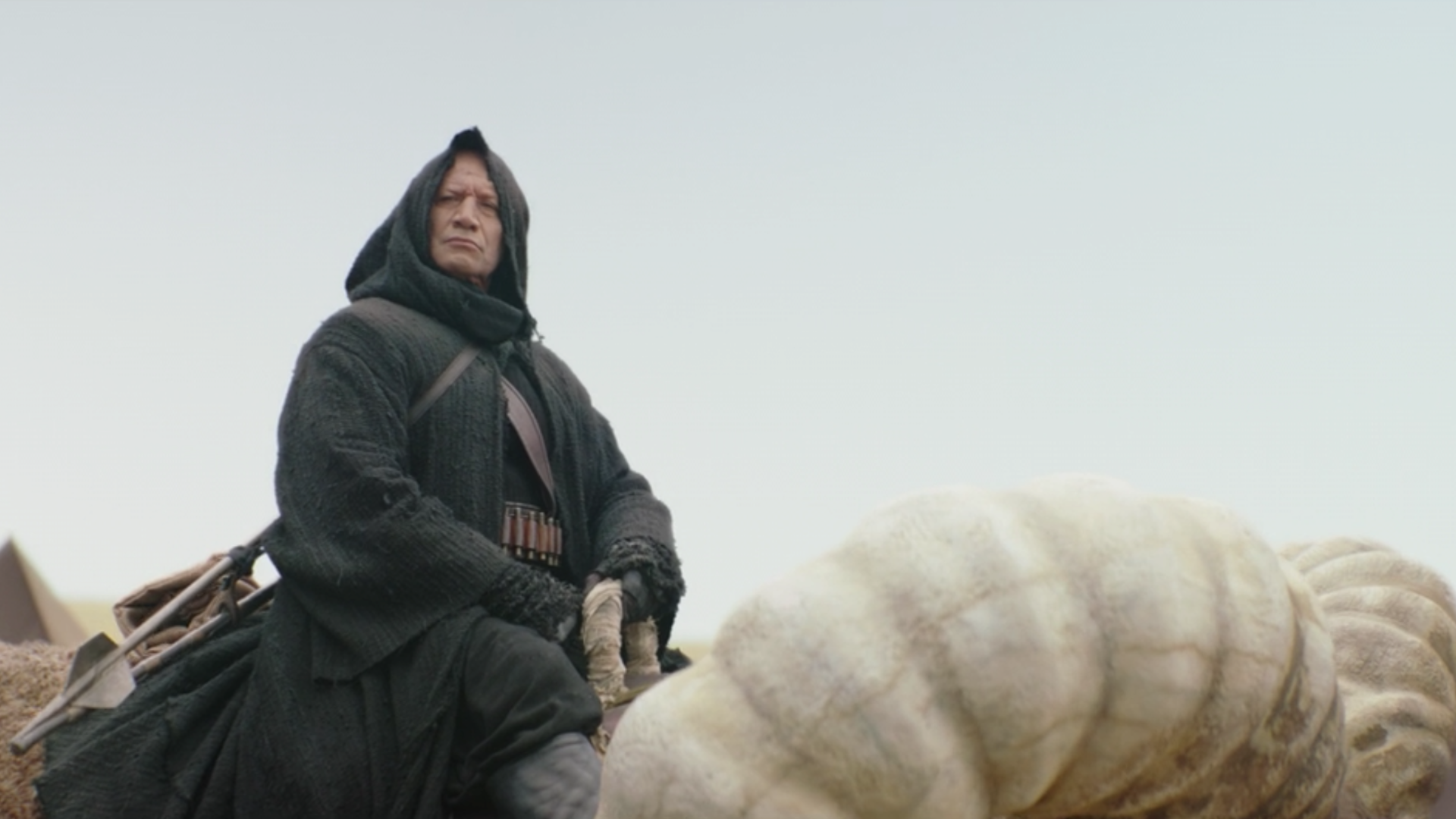 In this episode, the flashback scene is comparatively short compared to previous episodes, but it was an emotional one. Boba leaves the Tusken tribe for a day to visit the Pykes and demand protection money, but when he gets back his new Tusken family is destroyed. I was surprised at how sad I was about this; they'd kind of grown on me. And they obviously meant a lot to Boba, and it was clear he was devastated. Some fans have complained that the show spent so much time developing these characters only to wipe them out so suddenly, and that it doesn't make sense. But I had a feeling he was going to lose them somehow; otherwise, why would he have left in the first place, considering how content he seemed with them? And with that sudden loss, we feel Boba's pain.
In the present, Boba must deal with the challenges that continue to be thrown at him. I think he forgot that to run the place, he needs to deal with petitioners that come his way with complaints. When he goes to deal with the hooligans that are stealing water from the water-monger, he finds….teens on speeder bikes. He finds out they're stealing the water because the water monger is charging too much. He offers them a job (he needs to grow his entourage, after all) and tells the water monger to lower his prices.
So this "millennial bubblegum gang," as I've heard them called, is a big sour point for many fans. And I get it. They just don't seem to fit into Star Wars. My big complaint is that they were stealing water because it was too expensive–and yet they seemed to have enough money for their expensive borg implants and flashy bikes. Plays right into the millennial trope–can't afford the rent, it's too high, but somehow find the money for $1000 iphones and a monthly mani-pedi. They could have been cool if they were handled a bit differently, but as it is, they're just annoying, lol.
And apparently they don't do a good job of guarding Boba, because Black Krrsantan strolled right in and yanked him from his bacta tank and proceeded to kick his bacta-slick butt. They did manage to round him up and get him into the rancor pit. I'm not sure why BK just didn't shoot Boba, but maybe it's a Wookiee thing–it's more honorable to beat someone in hand-to-hand combat. But if someone's paying you to kill someone, you might want to just get the deed done in the quickest, easiest way possible.
Anyway, before Boba can respond to the attack, the Hutt twins arrive and apologize for sending BK in the first place; they give him a rancor as a gift to make up for it. They say they're leaving Tatooine and that he should too, as the Mayor has promised it to another syndicate. Boba bonds with the rancor (I really like this scene, too, although I kept waiting for the darn thing to bite his head off, lol; but I have visions of him riding the beast into battle in some future episode, which would be awesome).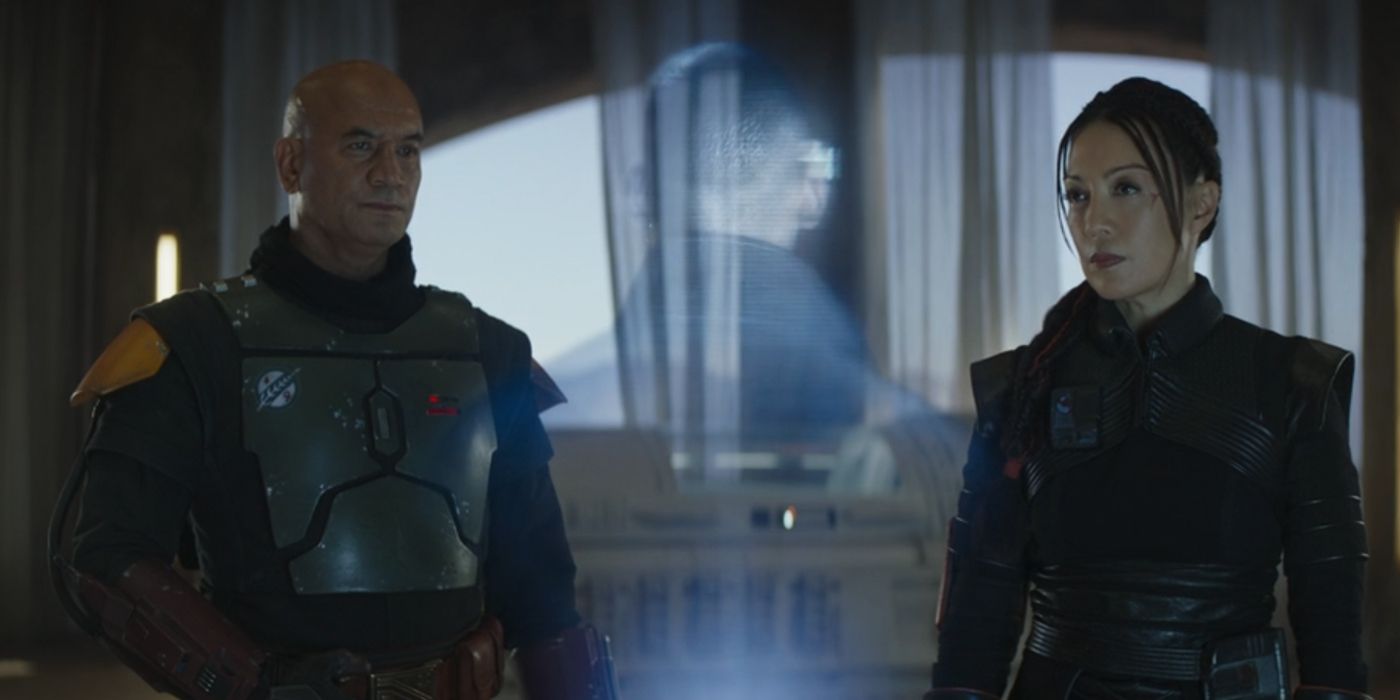 So Boba and Fennec go to see the Mayor, but his lackey locks the door and flees on a speeder. The teen biker gang pursue him in what must be the slowest, most boring chase scene ever in Star Wars. I really don't get it. The speeder chase in ROTJ in 1983 is more exciting than this. Maybe I'm spoiled, but I think most of us expect something other than a chase scene that looks like it was done by film school students on a tight budget. It was just so bewildering!
Anyway, they catch him and he says the Pykes are taking over Tatooine, so they're keeping a close eye on them as they arrive in numbers.
So yeah, not the best episode so far. It's pushing the narrative along, Boba is increasing his merry little band, and the big bad has been revealed. But it seems kind of a mess, and after the wonderful second episode, a bit disappointing. But I'm not giving up on the series yet; I think there's hope for some great stuff ahead, as long as things start to get a little more coherent and stream-lined. I'm still curious to see what Boba does after the death of his Tusken family. In some ways, I feel like the first season of the show should have just started with him getting out of the sarlaac pit and go from there; a second season could have dealt with all the present-day stuff, rather than go back and forth with flashbacks. Oh well.
What did you think of Episode Three? Let me know in the comments, and we'll talk about it!