Happy weekend, my friends!
In books this week, I'm about halfway through The Invisible Life of Addie LaRue, which I'm really enjoying. I'm also only about halfway through The Outsiders, the book my daughter is reading in school. It's a short book and I would have finished it in a couple of days, but I'm trying to go at my daughter's class' pace, which is EXTREMELY slow, lol (it doesn't help that her teacher has been out sick). So that's on hold until they catch up.
So I needed another Kindle book to keep me busy until then, so I downloaded The Weapon of a Jedi, by Jason Fry. It's a middle-grade Luke-centric story that takes place between A New Hope and The Empire Strikes Back. I've just started it, so I can't really say much about it right now, except that I'm happy to be reading a Luke story. More on this book next week.
Speaking of Luke-centric stories, I just learned that there are several new Star Wars canon books coming out next year, and one of them is called Shadow of the Sith, by Adam Christopher. This one has Luke Skywalker and Lando Calrissian post-Return of the Jedi and before The Force Awakens. Finally, a Luke story post ROTJ! It comes out June 28th of next year (my birthday! Sounds like a great birthday present to myself, lol). I'm going to have a whole post on these new books, which also includes an Obi-Wan and Anakin novel called Brotherhood, a YA novel about Obi-Wan (so much Obi-Wan next year, my heart can't take it!) called Padawan, and a book of short stories about the Jedi and the Sith called, well, Stories of Jedi and Sith, by various authors. Very exciting for this Star Wars bibliophile, and along with the new High Republic books coming out next year, I'll be very busy indeed!
So, in Marvel: the latest What If? episode (What if…the Watcher Broke his Oath) was the season finale, and it was…good. I enjoyed it, as it brought together this rather ragtag team of heroes from across the multiverse to fight Ultron, including Party Thor, T'Challa Starlord, Captain Carter, Gomorra, Killmonger, Black Widow and Dark Dr. Strange. It had a lot of cool battles, and the solution was unique and unexpected, but…I have questions, lol.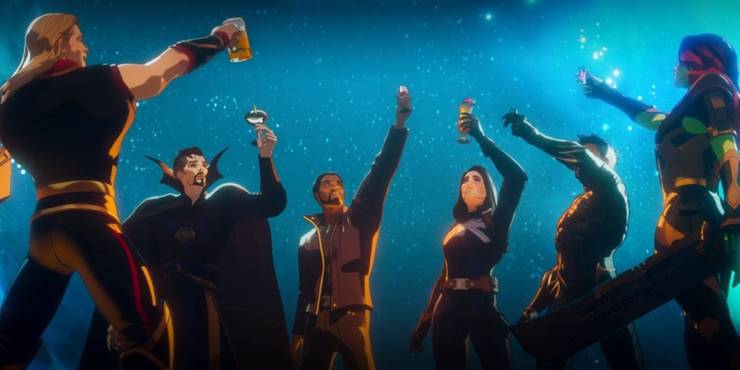 First off, I wanted to know more about this Gamorra. We hadn't seen her at all in the series, and suddenly she's there (taken from a universe where she was working with Tony Stark, of all people). What's her story? Also, I just kind of assumed that if the Watcher broke his oath (and who, exactly, did he make the oath to?) that there would be consequences. A price to pay, so to speak. But nothing happened. He broke his oath and interfered, Ultron was defeated, and…that's it. Multiverse saved. Doesn't seem to make cosmic sense. Anyway, my last question is: how does the Watcher fit in with the multiverse unleashed in the Loki series? Does Kang (or He Who Remains, or whatever his name is) know the Watcher? Is he the one The Watcher gave the oath to? Maybe these are questions that will be answered in a Season Two, which I really hope happens.
Oh hey, if you want to ball your eyes out, check out the movie War Horse. It's a great film about a horse and his boy, but has the kind of scenes (like a horse getting caught in barbed wire) that make me wonder why the hell I put myself through this, lol. Seriously, it's a wonderful Spielberg film that ranks up there with my personal horse movie favorites–Hildalgo and Seabiscuit. Heavenly Hiddles is in it but only for about 20 minutes in a 2.5 hour movie. No matter; still well worth it.
That's it for this week. What's been entertaining you? Let me know in the comments and we'll talk about it!