Mandalorian Season Two Spoilers Ahead!
The latest Mandalorian episode, Chapter 11: The Heiress, packs a punch in its 36 minutes.
Din has to make an emergency landing on Trask because of the pitiful state of the Razor Crest, and has to be fished out of the water by a really cool walker-crane. He throws some credits to a Mon Calamari wearing a warm-looking cable-knit sweater and suspenders to fix it the best he can.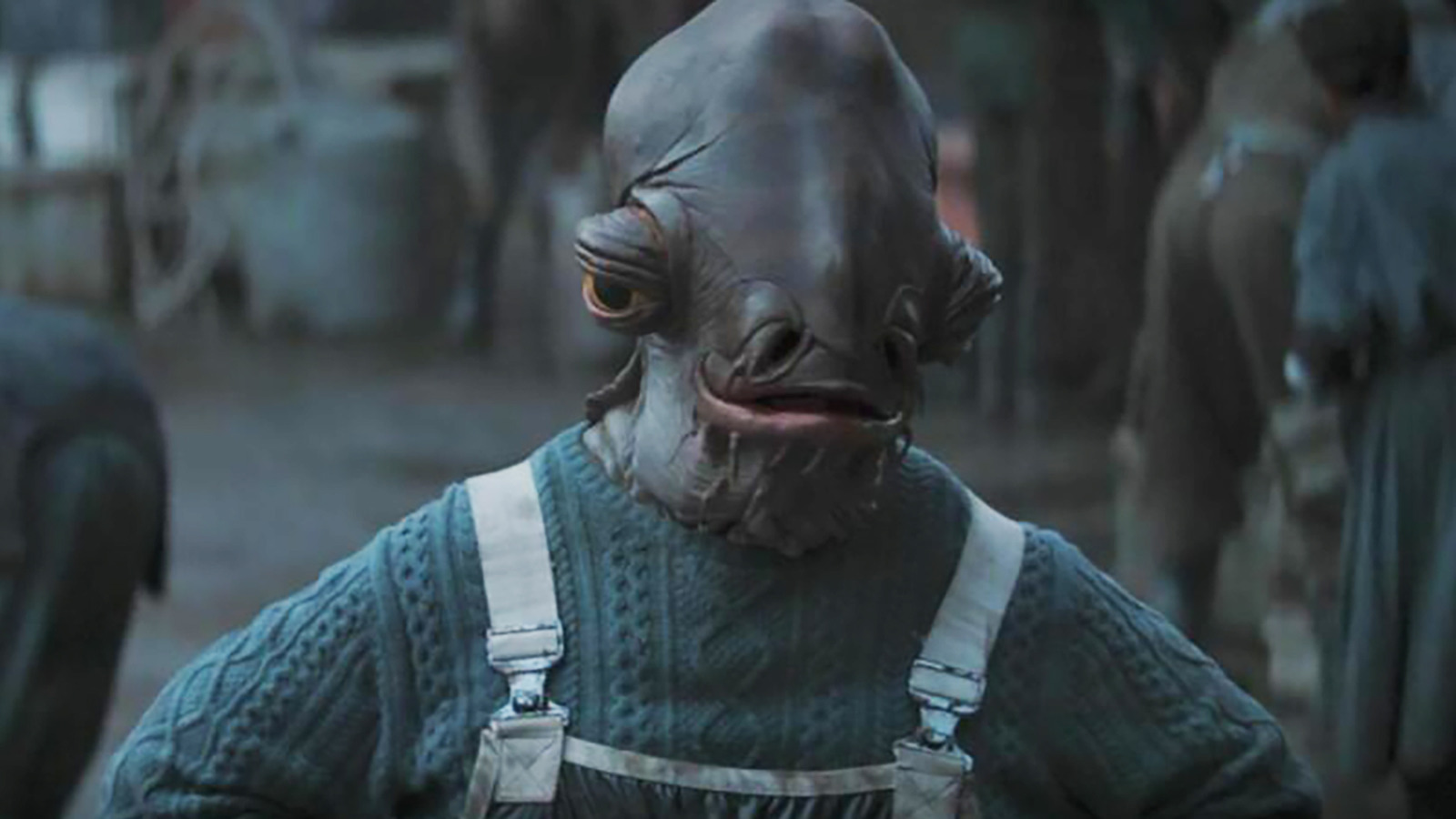 Frog Lady reunites with her hubby, who directs Din to an inn where he can find info on Mandalorians. A Mon Calamari there directs him to some Quarren who will take him on their boat to the other Mandos. But guess what?
The Quarren just want to steal his beskar, and they push the Child (in his egg-stroller–wink, wink, poetic justice) into the mouth of a monster. Din jumps in but becomes trapped; it doesn't look good until three Mandalorians show up, take out the Quarren and rescue the Child from the jaws of the monster.
So this is when it gets real interesting and kind of flip-out exciting.
Of course, Bo-Katan (!!!) is immediately recognizable with her distinctive armor; she's showed up with two others of her group (who I've since learned are called Nite Owls–never knew this). When they take off their helmets, Din naturally thinks they're not real Mandalorians, and demands to know where they got their armor.
This is where Bo-Katan sets things straight for Din. She tells him the armor has been in her family for three generations, she was born on Mandalore, and is the rightful ruler. And she recognizes him as one of "The Watch," a cult of religious Mandos who seek to go back to the old ways (which I believe is a remnant and evolution of Death Watch, as Din was saved and taken in by them–you can see their sigil if you look carefully in Episode 8 of Season One).
So now we understand the whole helmet thing.
And I don't think Din knows how to feel about all this, either. His motto is "This is the Way," but it's not the only way, and he never knew this. He leaves them abruptly, apparently having no use for them. The fact that they just saved his ass and he just abandons them tells me his whole life perspective has just changed and he needs some time to digest this.
They meet up again in an alleyway where they save him again from some Quarren looking for revenge. He agrees to talk with them over a drink, and he tells them he's looking for Jedi to bring the Child back to its own kind. Bo-Katan replies she knows a Jedi (and we know who she's talking about–more flip-out excitement!). She can tell him where to go if he helps them with their mission: to steal some weapons from an Imperial ship to help them in their quest to take back Mandalore.
He drops off the Child at Frog Lady's house for her to watch over him (and gives him stern daddy-orders to behave), and off he goes with the other Mandalorians. They jet-pack onto the Imperial ship, break in, and cause all hell to break loose. When it's clear to the captain his ship is lost, he contacts–guess who?–Grand Moff Gideon. Gideon basically orders the guy to kill themselves to prevent the weapons from getting into the hands of the "pirates." And he does it. But not before the Mandos get into the cockpit. Bo-Katan is looking for the Dark Saber–which, of course, Gideon possesses. The captain kills himself before she can find out where Gideon is. They manage to save the ship and and the weapons. She invites Din to help them retake Mandalore, but he has his mission and reminds her of the location of the Jedi she promised. She tells him the name of a planet, Corvus, and then she says it:
Ahsoka-freaking-Tano! Not like that, of course. But that's what we hear, and we're over the moon about it.
So Din retrieves the Child from Frog Lady's house (no pollywogs were eaten), and off he goes, limping away into space again.
Whew! That's a lot to take in in 36 minutes. But what an amazing episode. I'm sure all of us would love to see Ahsoka in the next episode, but again, I think they're going to make us wait. I'm betting Din's going to Navarro to recruit Cara Dune and Greef Kargo to help him first, and then maybe we'll see our favorite Togruta after that.
She's worth waiting for.
Liked this post? Hit the Like button, comment below, or Follow Star Wars: My Point of View.
Like to read Star Wars? Check out my sister blog The Star Wars Reader. I regularly review Star Wars books, both Canon and Legends.