So we've finally seen Ahsoka make her live-action debut, and I have to say it was pretty amazing!
Rosario Dawson did an excellent job with the character (though if I'm being nitpicky, something about her montrals and lekku just weren't right…but I'm not gonna be that person). I'm glad the show began with her right away, rather than a slow build-up where we're left saying, where's Ahsoka already????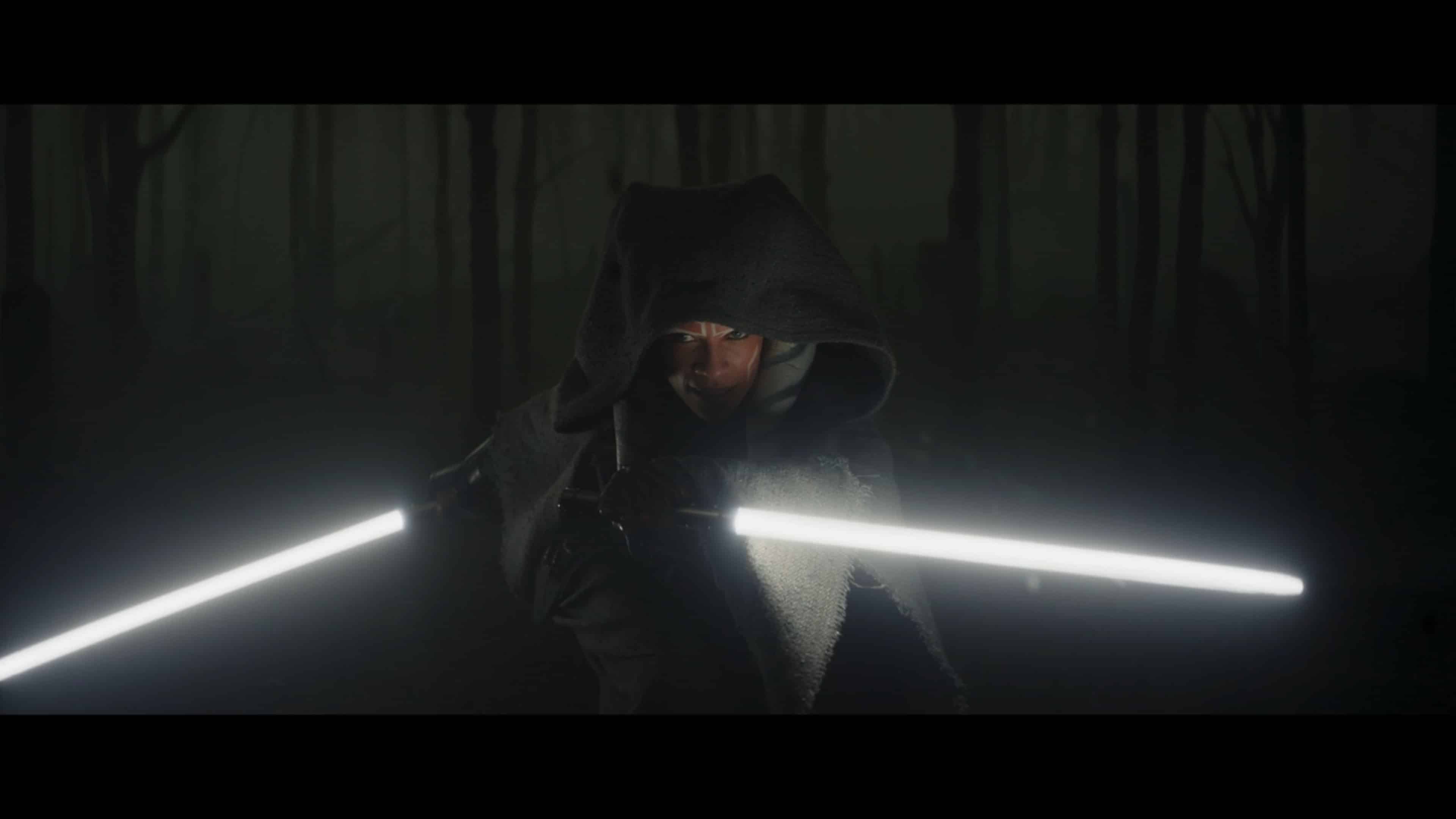 I loved the look of her twin white lightsabers against the fog and gloom of the planet, and honestly, it was just fantastic seeing lightsabers at all. I love The Mandalorian for being its own thing, but NOW it really feels like Star Wars.
There's so many things to unpack here, I won't do a plot summary, just a running commentary on what I thought was interesting, exciting, and just plain cool in this episode.
The planet Corvus is a lot drearier and gloomier than I thought it would be, considering Bo-Katan named it as a "forest planet." But clearly the environment has been ruined by the plundering the evil Magistrate Morgan Elsbeth (such a normal, non-Star Warsy name!) has wreaked on the planet. And the natives are suffering; it seems like a natural place for Ahsoka to be, to fight injustice and cruelty.
But the real reason she's there is that she seeks information from Elsbeth: the location of her "master", who I assumed was Moff Gideon. When it was revealed at the end that she was looking for Grand Admiral Thrawn, I merely said, "Hmmm, interesting," to my husband (a casual Star Wars fan, though a big fan of the Mandalorian–he had no idea who Thrawn was, but I try not to lecture him with Star Wars 101 unless he asks); while the hard-core fan in me was doing jumping jacks of joy. Thrawn! So she is still looking for Ezra. I assumed Sabine was off following another lead, but maybe we'll see her soon, too.
Anyway, I thought the best part of the show were the Ahsoka and Child scenes. I've read in other places that Ahsoka knew Grogu (our Baby's name!) at the Temple, but I don't think so. They were there at the same time, but he was a youngling, an infant, really, and she wouldn't have crossed paths with him in all probability. And she had to get his story from Grogu himself. I think he's a delightful surprise to her, which you can see on her face, along with the fond remembering of Yoda. She's gentle and respectful of him, but he's also an enigma.
I'm not surprised she refused to train him. Clearly, Grogu is deeply attached to Din, and is full of fear. Fear of the others who seek him, but also fear of losing Din, the closest thing to a father he's ever had. I think when he refused to use the Force during Ahsoka's test, it wasn't because he was being stubborn, as Din claimed. I think he didn't want to show his powers, knowing it might mean he'd have to stay with Ahsoka. He didn't want to leave Din. I don't think he ever will.
And Ahsoka sensed this, and knew that it was too late to train him, remembering what happened to Anakin. She wasn't even going to go there. Her recommendation to bring him to Tython caused all kinds of speculation on what Jedi may answer Grogu's call. Luke? Ezra? Someone we don't even know? But there's another possibility: a dark Force user. A possibility I fervently hope doesn't come to pass.
The battles between Ahsoka and Elsbeth, and Din and Lang (Michael Biehn, who I didn't immediately recognize), were very cool. Ahsoka and Din win the day, and the town is free once again.
I found it interesting that we don't know if Ahsoka actually killed Elsbeth, or got the information she wanted. I guess we have to wait to find that out.
Oh, and one thing I saw that made me ridiculously happy was a brief glimpse of Ahsoka's owl, Morai. It almost blended in with the forest, but it was sitting up on a high branch while Din and Baby were looking for Ahsoka. Anyone else see it?
So off to Tython, but I have a feeling the next episode will be a side-track sort of show, maybe a run-in with some baddies, with the last two shows being a two-parter finale on Tython. Just my guess.
Loving this show more and more, and can't wait to see what's in store!