With the release of the cast of the Obi-Wan Kenobi show, and a new trailer for The Bad Batch, it's ratcheting up my excitement for the new shows. First, I want to briefly address these recent announcements, and then I'll rank all the new upcoming shows based on my preferences and why.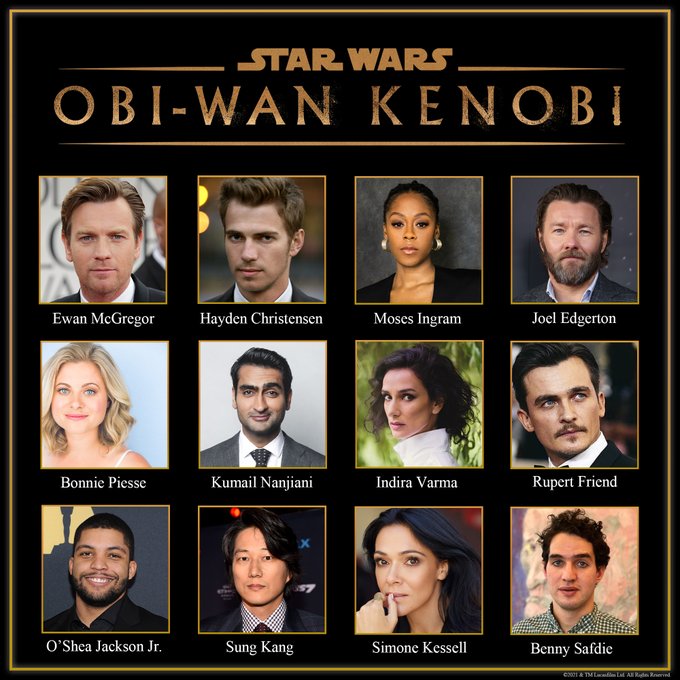 First, Obi-Wan Kenobi. Starwars.com released the cast list and stated production will begin in April. From what we understand, it will release sometime in 2022. I'm going to go ahead and admit I don't know half the actors in the cast list. Ewan and Hayden are obvious, and Joel Edgerton and Bonnie Piesse are returning as Owen and Beru from Revenge of the Sith. The only other person I know is Indira Varma from Game of Thrones. But that's all right–I prefer unknowns (to me) in Star Wars, as they don't bring along any of their other roles. They're blank slates and can truly become the character for me.
As far as the trailer for The Bad Batch, it's getting me a bit more excited for the show. The characters themselves aren't as interesting to me as the setting of the show itself–post Order 66 as the Empire takes power. I love the Clones and want to see what happens to them after that fateful order, and whether or not the Bad Batch have a chip in their brains as well (I'm guessing no? Maybe?) Fennic Shand is an interesting addition, and was that Saw Gerrera I saw? As far as that kid goes–hmm. Not sure what that's all about, but we'll see. Looking forward to this show's premier on May 4th.
So, without further ado, here's my personal rankings based on my excitement and interest of the new shows coming up:
10. Droids. I don't necessarily hate the kid's shows, but no thanks.
9. Visions. I'm not sure what this is all about, but it might be interesting.
8. Lando. Look, I love Lando, but for a whole freaking show? I'm not sure that will work. But of course I'll watch.
7. Boba Fett. So I loved Boba in The Mandalorian. Does that mean I want a whole show of him? Not really. But I'll tune in to see what it's all about.
6. Rogue Squadron movie. Not a show, of course, but the next movie coming out in 2023. I'm not a huge fan of pilot stories, but it's a Star Wars movie. I'm going to go see it.
5. Rangers of the New Republic. Again, pilots. But will probably cross-over with Mando, so I'm on board.
4. The Bad Batch. As explained above, I want more Clones. This is what we get, so I'll take it. I'll probably love it, lol.
3. The Acolyte. Super curious about this one. I think it takes place about 50 years prior to The Phantom Menace, at the end of the High Republic. I'm thinking darksiders, Sith stuff, maybe Plagueis or Palpatine. Finally, some Force-users! Dark side, in all likelihood, but I'll take it.
2. Ahsoka. Duh. I can't wait to see Ahsoka in live action again, looking for Thrawn, maybe find Ezra, maybe with the help of Sabine. This one's gonna be good!
#1. Obi-Wan Kenobi. This is, of course, my number one, because: Obi-Wan. As you might have figured out if you read this blog, Obi-Wan is my favorite character. For a long time, fans have wondered–just what did Obi-Wan do to fill his time on Tatooine while watching over Luke? And since most of us would happily watch Obi-Wan drink tea in the desert for 6 hours (am I the only one?) this will be a real treat. With Hayden coming back as Darth Vader, the excitement level is off the charts, at least for me. I can't wait to see how it's all gonna play out.
I didn't include The Mandalorian Season 3 simply because it's not a "new" show, but obviously looking forward to it returning, sometime in 2022. I'm really gonna miss Baby, though.
What are your thoughts on these shows? Which ones are you looking forward to? Let me know in the comments and we'll talk about it!