Mandalorian Spoilers Ahead!!!
This was another great episode (is there any other kind?), with a lot going on in terms of action and characterization. And let me just say, I had no idea who Bill Burr was before The Mandalorian, but he's great in my book.
Before the episode aired, the return of Migs Mayfeld was seen by some fans as unnecessary and underwhelming. Not a lot of people liked him, I guess, but I did. Even though he was part of the group that betrayed Din on that prison ship in Chapter Six, there was something about Mayfeld I liked. Maybe it was just his funny quips (I'm a sucker for humor). At any rate, I've always believed you shouldn't judge a book by its cover, and that there was probably more to him than met the eye.
And guess what? There WAS a lot more to Mayfeld, as we find out in this episode. In his conversation with Din in the juggernaut (well, it's more like a Mayfeld monologue), we find out that he tends to look at the galaxy philosophically, stating that it doesn't matter who rules the galaxy–Empire or New Republic–there will always be rulers and the ruled. He also challenges Din on his strict Mandalorian "rules," asking him if he can't take off the helmet, or he just can't show his face? 'Cause there's a difference. And how we all get a bit lax on our principles when we get desperate.
The show further pushes Din when he has to take the helmet off in the mess hall to access the terminal they need for the codes. And he does what I knew he would do eventually–break his stubborn rules for Grogu. It's what this show has been leading up to–challenging Din on what it means to be a Mandalorian. Challenging his very identity. And for Din, there was no question–he took the helmet off in a room full of people, even scanned his face so that it's now permanently in the Imperial files. All for Grogu.
I loved that we got to see his face again finally. I like his face. It's a nice face. I'd like to see more of his face in future episodes, which is what I think we're working up to.
Anyway, we get more insight into Mayfeld, as we find out he was a part of Operation Cinder, a battle that took place in the Aftermath books (which I shamefully have not read). We find out that this battle is the reason Mayfeld walked away from the Empire–the Imperials had incinerated an entire city, along with Mayfeld's comrades, at least 10,000 of them. You can see Mayfeld getting worked up as he asks this commander, Valin Hess, if it was worth it. And of course this maniac replied it was, that they died for the glory of the Empire. And that was nothing compared to what they're going to do with the rhydonium they're mining. He says people think they want freedom, but they don't: they want order. And when they're done, the galaxy will be begging for the Imperials to come back and instill order.
During this whole conversation, you can just see Mayfeld's ire rising until he looks as if he's about to burst; while Din, as vulnerable as a child with his helmet off, is wishing Mayfeld will just shut up already. Finally, Mayfeld blasts Hess and they have to shoot their way out. But not before giving Din the stormtrooper helmet back and saying, "I never saw your face."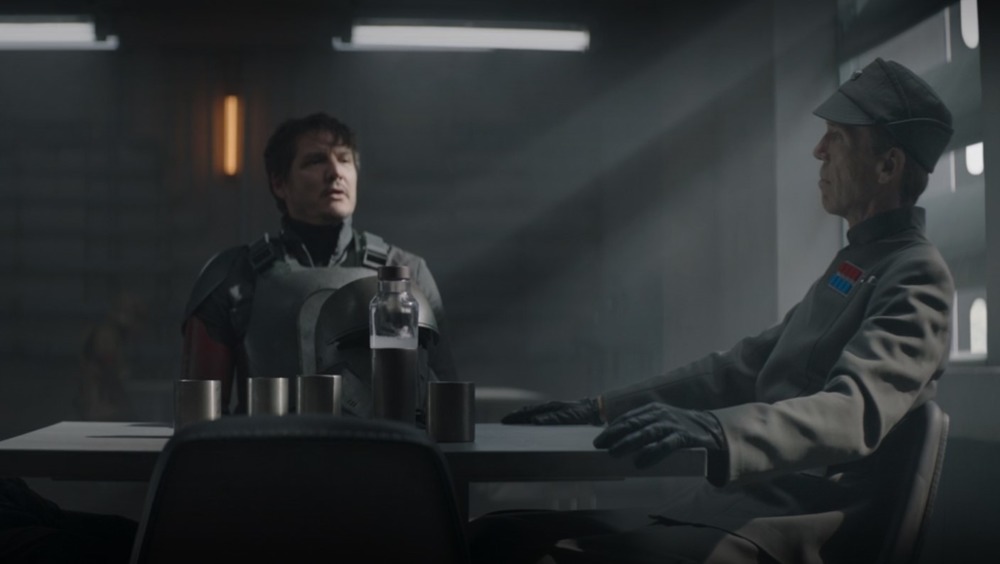 I just love how this episode turns these two characters on their heads a little bit. Mayfeld rises in our esteem, while Din has to show vulnerability (even during the pirate action scenes, that stormtrooper armor is no match for his beskar armor–even though he's still a bad ass warrior, he gets beat up. Those bruises are gonna hurt for awhile).
So who's the Believer in the episode? It's not as straightforward as we'd like. You have to think about it a little bit. Is it Din, who has to let go of some of his beliefs to find Grogu? Is it Mayfeld, who perhaps believes in himself again, and comes to believe in his own principles ("we have to sleep at night")? I think it's perhaps both, and that the title is deliberately ambiguous. It could mean many different things.
In addition to the great character development with Mayfeld and Din, here are a few other things I liked about this episode:
Cara Dune and Fennec Shand girl-power.
Walker cranes.
Boba's new paint job.
That sigh of weariness from Din when he sees even more pirates coming.
"Brown Eyes." That is all.
That Fett sonic boom!
And of course, Din's message to Moff Gideon at the end of the episode, in which he throws Gideon's own words back at him: "You have something that I want….He means more to me than you can ever know." Not only is it a huge F**k You moment, we see that Din doesn't just look at Grogu as his responsibility, a task, or a quest; he's his child. And he will do anything to get him back. Which we already knew in our hearts.
So even though Grogu wasn't even in this episode (I missed his adorableness), it was okay, because we got a fantastic episode. I can't believe the last episode of the season is next week, and I'm looking forward to how epic it's inevitably going to be.
P.S.–I've never watched The Office, so I didn't get the TPS reports joke. And I know, I should watch it.
Like this post? Hit the Like button, comment below, or Follow Star Wars: My Point of View.
Like to read Star Wars? Check out my sister blog The Star Wars Reader. I regularly review Star Wars books, both Canon and Legends.