(Please be aware that there are spoilers for this episode in this post.)
"Return of the Mandalorian"
So, yeah, we knew Mando was going to be making an appearance in the BoBF, but a whole darn episode?! I was both thrilled and a little puzzled about this, but let's go on.
We finally get to see what Din Djarin has been up to since Grogu left with Luke Skywalker. Apparently he's gone back to bounty hunting, but this particular bounty we see at the beginning of the episode is for information rather than money. He's looking for his people, ie, the Armorer and anyone else left of his old crew. He's given directions, and finds them on this cool-looking space station.
He and the Armorer talk about the Dark Saber, its history, The Night of a Thousand Tears, Bo-Katan Kryze; she makes a little something for Grogu from the beskar spear Din got from Ahsoka; and she trains him a bit in lightsaber battle. The blade becomes heavy for Din to wield, and the Armorer says that's because he's fighting the blade, not his opponent. Then the only other Mandalorian there challenges him for the Dark Saber (he's an ancestor of Tar and Pre Viszla, and feels he should be the one wielding it). Din wins the battle–though not necessarily with the blade–but then the Armorer asks if he's ever taken his helmet off in front of others, and he's busted.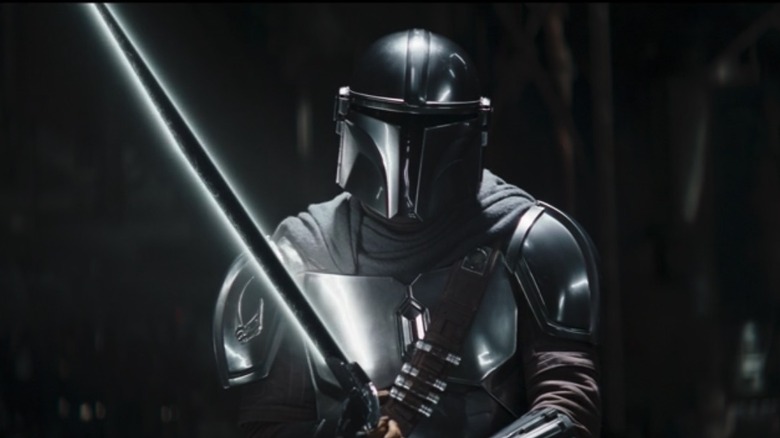 The Armorer casts him out, and Din goes to Mos Eisley in search of Peli. She's been apparently working on finding him another ship, and she's got a Naboo starfighter. It's from the time of the Republic and has definitely seen better days, but she convinces him to help her fix it up. And it turns out kind of great. (I can just see Grogu's cute little head poking up in that astromech bubble, can't you?) He takes it for a spin and he warms to the fast little ship. When he gets back, Fennec Shand shows up and asks him to help Boba, who's in need of some muscle. Din agrees, and says he'll do it for free. But first, he's got someone he's gotta check in with.
That's basically the episode, and it was fantastic. I think we're all just missing Mando big time, and it was wonderful to see him again. He's clearly missing Grogu, and is directionless without him. Grogu was his moral compass, and now that the little guy's gone, he went right back into bounty hunting. He doesn't quite know what to do with the Dark Saber, and can barely wield it. It's obvious he's reluctant to take on the responsibility of the blade.
He wants to go to Grogu and make sure he's all right (in his conversation with the Armorer, she says that in the Jedi creed, they must let go of all attachments; Din points out that this is the opposite of the Mandalorian creed, which is one of loyalty. I'm curious to see how this will work out for Grogu, who is clearly attached to Mando).
I'm not holding my breath that we will actually see Grogu or Luke in any future episode of the BoBF, and we probably shouldn't. We need to get back to Boba, especially with only two episodes left; the fact that Din got his own whole episode is another head-scratcher. Don't get me wrong, I loved it. But this is Boba's show, not The Mandalorian 2.5. Or maybe it is, I don't know. But I can't help but feel that The Book of Boba Fett suffers in comparison to anything Mando; it's inevitable. It's kind of not fair, lol. But it's clear that these shows are linked, as I'm sure the Ahsoka show will further link in, so maybe it's not a big deal.
It's also interesting to note that these two very different men, who wear Mandalorian armor (but were not born on Mandalore in the way that Bo-Katan was) are trying to find their true identities. Boba is well on his way to redefining himself, but Din, now that he's broken his creed for the sake of Grogu (who's now gone) and has been cast out, is floundering and must find his way again. Maybe Boba can give him a few tips, lol.
At any rate, I'm eager to see the next two episodes of the BoBF and how Din will play a part in Boba's quest to rule Tatooine.
What did you think of the episode? Do you think it hurt or enhanced The Book of Boba Fett? Let me know in the comments and we'll talk about it!